Hospitals and Clinics Pest Control
Hospitals and Clinics Pest Control Service by Lifecare Pest Control @ Best Rate.
Lifecare Pest Control offers a best pest control service in Hospitals, Nursing Homes and other medical facilities area that are intended to be places of health and healing. In the healthcare setting or Clinics pests are intolerable as some can transmit diseases and the need to promote the overall cleanliness of a facility. However, a medical facility that has everything a pest needs to live: food, warmth, shelter and a steady supply of transient human beings to ferry them into a facility. Pest Control in hospitals, nursing homes and other residential health care settings require an approach that relies primarily on non-chemical control measures and minimizes the use of pesticides.
As we know that every two patients are not same, no two healthcare facilities are alike. That's the reason we will start the work with comprehensive inspection to understand the unique pest pressures your health care facility faces. Further with inspection we are working accordingly to protect everything from pest with scientific methods to work. Our employed specialist are trained on the behavior and biology of pests and this understanding of the pests makes their task very easy to quickly locate the source of the pests and destroy it and keep your facility complaint with all local codes and laws.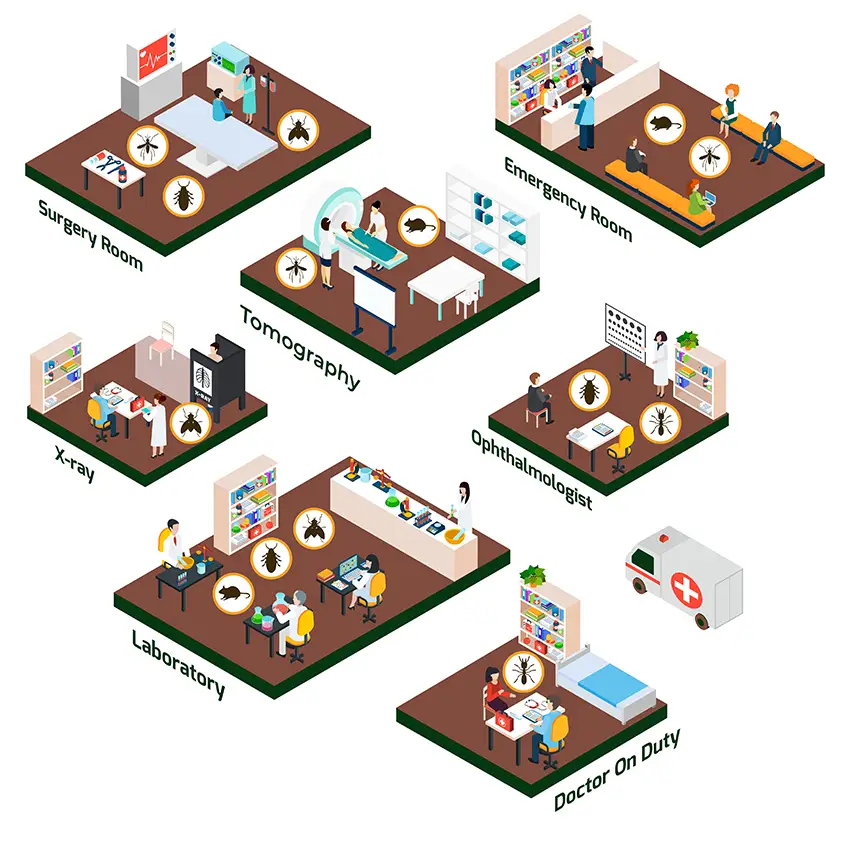 We at Lifecare Pest Control can help you to keep away the pests such as bedbugs, mice, ticks, spiders, stinkbugs, Vermin, flies, roaches and more from infesting such medical facilities as Nursing Homes, Hospitals, Medical, Clinics, Drug Stores, in the food of the kitchen and cafeteria and the warmth of the patient's beds are a great attraction for the pests. They can flourish rapidly and can become a dangerous hazard to patients and personnel. The risk of cross-contamination is high.